Never miss an episode of weekly inspiration from Simple Change. Subscribe now through iTunes, or Stitcher, or listen to an episode here.
Today's guest, Nick Snapp is a family man, engineer, coach, speaker and host of the Make It Snappy Productivity Show Podcast in addition to being the productivity specialist and podcaster at Inspire Me Solutions.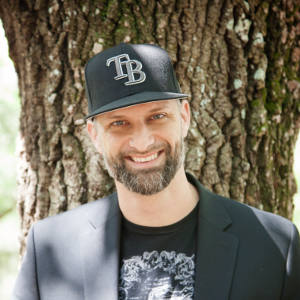 Nick, being trained as an engineer initially felt that he had to chase the corporate lifestyle. He enjoyed the people in the corporate world, but he always knew that there was something missing. As years progressed, he realized that environment wasn't for him. In his experience, he would find a lot of people who were depressed and stuck doing the "corporate thing" which led him to answer his calling of becoming an entrepreneur.
February 2015 was Nick's turning point and also the time when he decided to pursue the "entrepreneurial thing." He started his business with LEAN SIX SIGMA studies for products and companies. The job required more time spent away from his family, which he could not afford, so he got a coach to find some solutions. A program in L.A. made him identify what he was good at and what accolades he had always received in the past and they were all about PRODUCTIVITY. Since then, he has been hitting it hard in the productivity space.
Nick views productivity as "working on the right things and spending your time working on your best activities. Defining what those best activities are, is the most productive thing that anybody can do".
Getting involved in this productivity line got Nick thinking about every moment of his life. He came to know that your time really matters as an entrepreneur and on the outset you are the only person accountable for what you are getting done. When he first started, he was struggling with procrastination with his website; he just could not get it together. Later on, he finally decided to build the website at all cost in two weeks with the help of stickK.com. StickK.com is a helpful online tool that asks users to sign Commitment Contracts, define their goals, acknowledge what it'll take to accomplish it, and leverage the power of putting money on the line to turn that goal into a reality.
As an entrepreneur, Nick is not afraid to push limits on what he feels that he can do. He started experimenting with coaching on air, with having panel answering questions from listeners and even with his wife or kids on, doing commercials. He's never been afraid to execute whatever he feels is solid and consistent with his message and brand that adds value to people , however possible.
The majority of Nick's clients are parents who feel overwhelmed, lacking focus and feeling distracted. Nick also experienced that previously ,which led him to learn productivity. Nick wants to inspire and help people live their lives where they want to, do things that they want to do and help them get their time back.
Nick also developed a group coaching program, as he believes that the clients support each other. It's a group with a common mission and similar mindsets to help each other.
Some Simple Changes that Nick recommends:
" Getting around people that think like you."
" If you have an idea, it's going to sit our there in "idea land" until you set a date and commit and you tell people what you are doing."
To learn more about Nick Snapp and how you can get your time back, to spend more time doing what you love, please contact him at via email: nick@makeitsnappyshow.com or visit him at his website: www.makeitsnappyshow.com
Sources Mentioned in the Podcast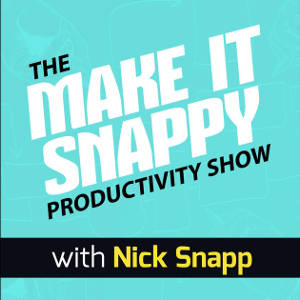 Sarah Featured on Make It Snappy Show
Connect and Follow Nick
Make It Snappy Productivity Show
Make It Snappy Productivity Show Facebook
Simple Change Theme Music by Hani'el Mastriani-Levi
Simple Change Logo by Eden Mastriani-Levi
This podcast was edited by Wildstyle Media